Centrifugal Fan for Kiln Cooling
Centrifugal fans employed to cool down the glass melting kiln.

qV (m³/h) = 50000÷115000
pFt (kg/m²) = 150÷240

Low pressure centrifugal fans, high airflow volume.
Backward curved blades impeller for high efficiency.
WEG electric motor coupled through belt drive (arrangement 12).

The fans are manufactured in carbon steel S235JR, with reinforced impellers cl.II. The motors are equipped with insulated non drive endshields, to avoid damages to the winding, which can be caused by eddy currents, deriving from the VSD use for the motor power supply. On the drive end, a roller bearing has been installed to bear the load from the belt drive.

Provided options:

Inspection door
Inlet vibration-proof joint
Outlet vibration-proof joint
Inlet protection net
Manual control opposed blade damper
Drain cap
Shock absorbers

WEG W22 IE3 electric motor, 132 kW 4 poles B3 V 400/690/50 cl. F IP55 frame 315S/M4

These fans have been designed to meet the requirements of a customer who needed a ventilation system, able to cool down the walls of the melting kiln, 24 hours a day, 365 days a year, for a campaign duration of 12 years. For this reason, the fans have been placed in couples, one having a back-up role for the other, to avoid flow stops even during standard maintenance operations. WEG IE3 Premium Efficiency motors have been installed to guarantee significant energy and economic savings.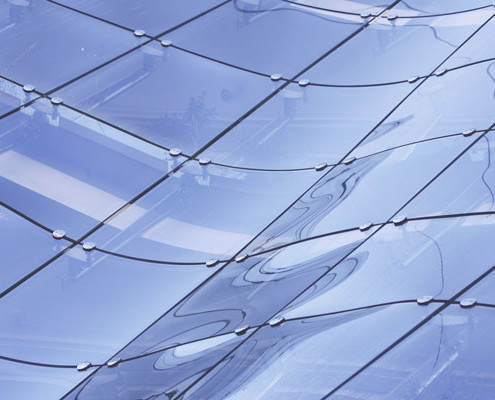 Glass production process, furnace air supply, mould cooling and tempering. Glass recovery.