Centrifugal Cooling Fan for Glass Industry
High pressure centrifugal industrial cooling fan for glass moulds. High efficiency impeller's blades profile and WEG IE3 Premium Efficiency electric motor.

V (m3/h) = from 15.000 to 24.000
Pt (kg/m2) = from 2.100 to 1.900

High pressure centrifugal fans.
High efficiency backward-curved blades.
Direct drive arrangement.

These industrial cooling fans in arrangement 4 are built in carbon steel with impeller blades made of CORTEN (rim speed allowed 173 m/sec). This solution has a very interesting efficiency level.

This supply ensures a higher efficiency level to the customer through the mounting of WEG W22 IE3 electric motors. Each motor is equipped with n.d.e. insulated bearing; this peculiarity allows inverter duty, to avoid "eddy currents".
Regreasing system on both sides is provided to optimize maintenance intervals and guarantee long life for the ball bearings.

WEG W22 IE3 160 kW 4 Poli B3 V 400/690 50 Hz IP55.

These industrial cooling fans are standard design in sturdy construction, with impeller blades in special steel for heavy-duty application. We produced ad-hoc study on these fans and motors to meet the needs of the customer about energy saving and return of investment. In this way we obtained the best solution.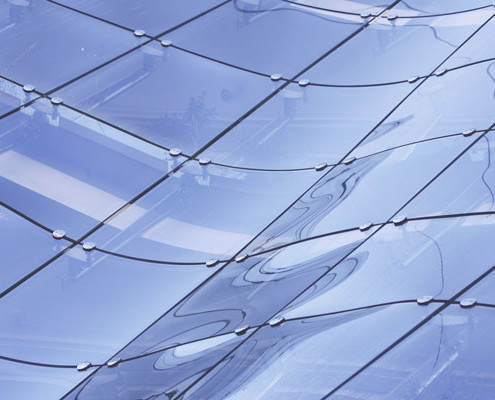 Glass production process, furnace air supply, mould cooling and tempering. Glass recovery.